Master Teachers on the Mountain
Educating Contemporary Learners Through Ancient Āyurveda Teachings
Āyurvedic Health Counselor Classes Open to the Public
Expand your knowledge or develop new skills without enrolling in our academic programs. A portion of the Āyurvedic Health Counselor program is open to the public for auditing. Auditors pay a lower tuition, receive no academic credit, and attend lectures with the Master Faculty from 3:00 pm Friday to 3:00 pm Sunday. This is a wonderful opportunity for those wishing to expand their knowledge of Ayurveda or those thinking of enrolling in one of our programs.
We have three more weekends open for auditing this year, June 16-18 - Herbology, July 21-23 - Nutrition, and Sept 22-24 - Ayurvedic Psychology. For more information or to register, call 408.846.4013.
Explore Courses
Our three progressive programs provide students with ancient knowledge and wisdom relevant for today's world. Learn more about the transformational nature of our courses.
See Courses
Upcoming Workshops
Feb 16, 2018 - Mar 29, 2019
Professional Training in lifestyle medicine that prepares students for careers focused on preventive mind-body healthcare, this 16-month educational program prepares students for a professional career as an Āyurvedic Health Counselor.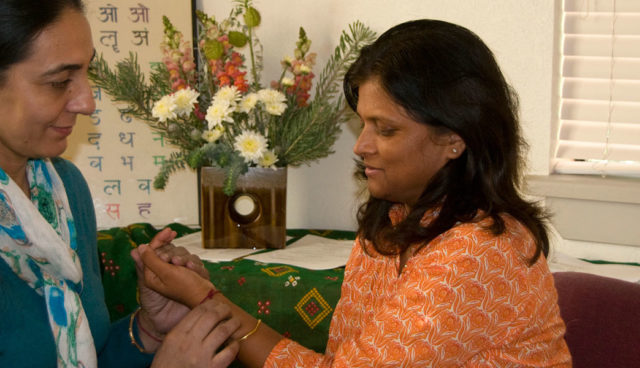 Apr 6, 2018 - Dec 30, 2019
The Certificate - Āyurvedic Practitioner Program significantly builds on the foundational AHC Program. It is an exploration into classical texts, traditional clinical treatments, practices, and formulations…guiding the student to a deeper understanding of the 5,000 year old art and science of Āyurvedic medicine and philosophy.